New technology to give super cyclists priority in the city
The organisation known as "Aarhus Cycling City" has launched a new concept aimed at persuading more long-distance commuters to cycle to work. The project mounts 200 chips on bikes used by a range of volunteers, enabling them to communicate with the traffic lights at selected junctions. When a chip approaches a set of traffic lights it will ensure that cyclists are given priority – thereby making their progress as smooth as possible.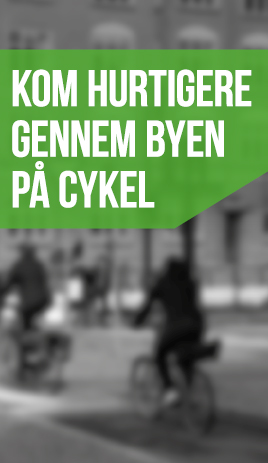 The aim is to make it easy and safe to cycle in Aarhus, and the City of Aarhus wants to promote cycling and encourage people to use their bikes on a daily basis. To achieve this goal, Aarhus Cycling City has launched a range of innovative projects and untraditional campaigns in recent years with a view to increasing the use of bikes in the city.
Aarhus Cycling City is now introducing a new service which gives cyclists priority at traffic lights thanks to a chip mounted on their bikes. The system is being tested initially at the junction between Grønnegade and Åboulevarden. This junction is part of the upcoming super bike lane between Aarhus and Lisbjerg via Skejby.
"It's easy enough to get around on your bike using super bike lanes outside the city, but as soon as you hit heavy city traffic things become more complicated. If we want to take the name 'super bike lanes' seriously, we need to find out how to make life easier for cyclists – particularly at traffic lights. You have to wait quite a long time before they turn from red to green," says Kristian Würtz, the alderman responsible for technical services and the environment.
The system registers your bike about 100 metres from the junction, so the lights have time to change without you having to stop. Cyclists are given priority at junctions as long as just one bike with a chip is registered by the system. The lights stay green for longer if other bikes with chips turn up.
If the project proves successful, the plan is to try it out elsewhere in the city – primarily at traffic lights on the routes which cyclists use most. The system is unique because it makes it possible to give priority to a particular group of cyclists – in this case long-distance commuters.
In the long term the plan is to develop the system into an actual "cycle passport" for Aarhus. This is like a special club for members who will be given a range of free services: priority at traffic lights, locked parking facilities for their bikes and access to cycle pumps, for instance. In addition, club members will be registered each time they cycle past a special box, enabling the system to design campaigns to increase levels of motivation (annual prizes for cyclists who cycle more frequently than anyone else, for instance). Cyclists can check out a website to see how many points they've accumulated and what the system has done for them.
All you have to do is mount an RFID chip on your bike. This chip doesn't need a battery, and cyclists will be registered automatically at junctions using a box containing an RFID transmitter.
Kristian Würtz was at the junction between Grønnegade and Åboulevarden at 7 am on Friday 10 April to hand out RFID chips to cyclists.
Further information:
For further information about the system, please contain Pablo Celis (the project manager of Aarhus Cycling City) on telephone number 3030 4479 or at e-mail pace@aarhus.dk
You can also check out the attached information folder and photo, showing the registration box which is to be installed at various junctions.