The Creative Ring launch
During the annual Smart City Expo in Barcelona, five European cities launched the Creative Ring. The Creative Ring is a new initiative targeted to developing vibrant creative eco-systems in order to generate societal and economical impact. Creative Ring will build eco-system intelligence and accelerate the development and uptake of innovative solutions created by cross-overs with Cultural and Creative Industries.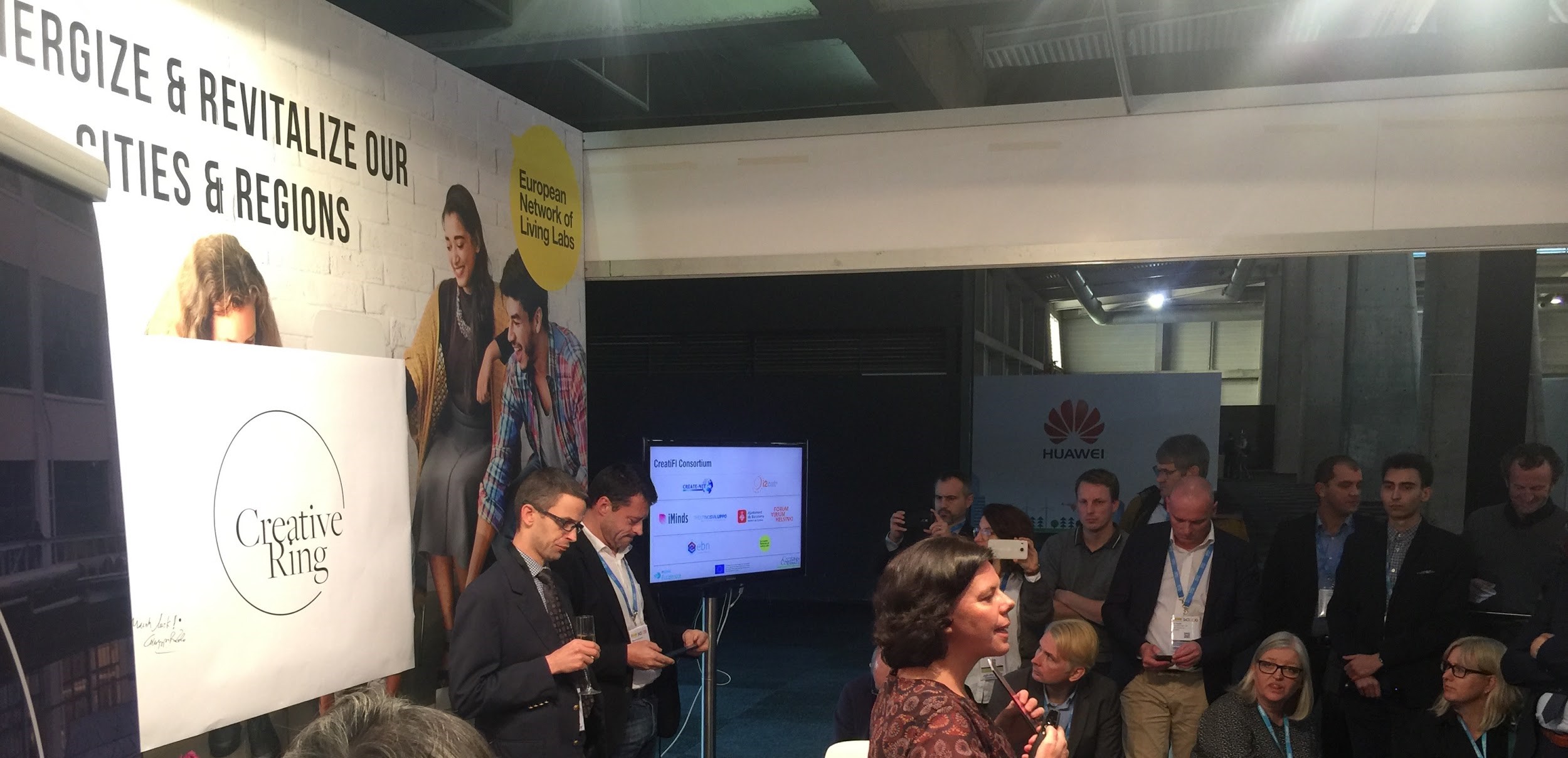 A new generation of entrepreneurs and creative individuals is emerging in our cities. Gathered in a diverse set of urban "tribes", wikipedians, digital artists, local media producers, fab labbers, arduinos and designers are creating new jobs and opportunities.
Increasingly, our cities offer an innovation platform to enable new forms of co-creating, making, learning and trading that take advantage of new technologies while still recognising the value of expertise and craft skills. At the same time, cities are facing problems of funding, and urban creative communities are isolated from their counterparts in other cities. As a consequence, the immense potential of the European Creative Industries, in size as well as in diversity, is currently not fulfilled.
The Creative Ring facilitates the above-mentioned engagements, by enabling a European-wide, technology-supported experimental eco-system for creative talents, professionals and stakeholders working in and with the Creative Industries.
At present, five cities signed the Letter of Intent to move this ambitious initiative to the next level, the cities of Aarhus, Barcelona, Brussels, Ghent and Eindhoven. Their priorities and organisational form vary locally, however, common for them all is that they - through virtual and physical meetings - seek to create new business and innovation models and practices, new knowledge, novel organisational forms, as well as services, solutions and products that are able to scale and accelerate through the link to the European umbrella: The Creative Ring.
At the official inauguration, Annemie de Tremerie (City of Ghent) talked about the city's focus on Smart Citizens. Miguel van Keirsblick (Brussels Creative) aims to boost Brussels' economy through co-created innovation. Guus Sluijter (City of Eindhoven) highlighted the fact that their policy is defined as "Smart Society" rather than "Smart City" and Bo Fristed (City of Aarhus) lays the focus in his city on sharing/openness and collaboration.
Ingrid Willems, project coordinator of CreatiFI, and co-founder of the Creative Ring, stated: "Incubated under CreatiFi, a FIWARE accelerator, the Creative Ring already built its first successes in bringing together web entrepreneurs and creative professionals for creating smart-city apps targeting the Creative and Cultural Industries". From 795 participants, 18 winners presented their project at Smart City Expo. For 2017 another challenge is being prepared, targeting innovative Wearables projects.
Contact
For more information, please contact Ingrid Willems, Co-Founder of the Creative Ring on ingrid@creativering.eu or +32 471 95 00 80 - or visit www.creativering.eu .